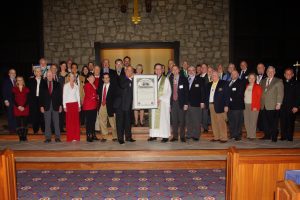 Our Knights of Columbus Council was started in September 2016. Our purpose is to serve the pastor and our parish through the support of families and service to our parish and community. Membership in the Knights of Columbus is open to men 18 years of age or older who are practicing Catholics in union with the Holy See. This means that an applicant or member "accepts the teaching authority of the Catholic Church on matters of faith and morals, aspires to live in accord with the precepts of the Catholic Church, and is in good standing in the Catholic Church."
We sponsor many activities for our parish and community including:
Blood Drives
Christmas Gift Sale for the Monastery of the Holy Spirit
Coats for Kids
Communion Breakfast for the Parish
Food Drives for the Community Assistance Center
Free Throw Championship for Children
Monthly Family Rosary Program
Soccer  Championship for Children
Meetings take place on the 2nd Thursday of the month from 7:00 pm – 9:00 pm.  To learn more about becoming a Knight, send us an email here.